How to maximize your potential and affiliate profits?
Trading and forex affiliate marketers, it's great that you can enjoy the potential to earn hundreds of thousands of dollars a month in commissions, especially if you've partnered with a reliable and reputable trading Affiliate program, like AvaPartner. But now it's time to up your game, stand out from the thousands of affiliate marketers out there promoting the same thing (forex), by offering a trader's and investor's dream "AvaOptions", while gaining a competitive edge- by offering your referrals the ability to trade FX, gold, indices, options and more – all from just one account.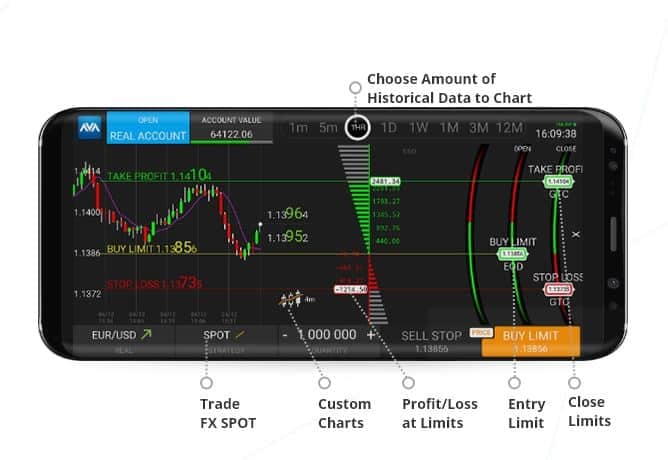 What makes Options so special?
Call and Put Options are powerful tools that give you control over your risk, presenting great opportunities for investors and traders, not to mention the added value to one's entire portfolio. Options can be used as a hedging device for risk reduction, as well as offer traders flexible and potentially profitable new trading strategies. With Options, you are not limited to "buy" and "sell" with symmetric exposure to profit and loss. Traders can benefit from increased cost efficiency and tremendous leveraging power (think 200:1 leverage)!
High returns with low risk!
Options can be bought to decrease your overall exposure to the financial markets, especially to the risks involved with rapidly fluctuating prices. When buying options to gain exposure to an asset price, you only pay a small upfront fee – and that's the most you can lose – while creating the exposure you want for a big market move! Options can also be used as a hedge to protect your other open positions and even your entire portfolio. They are safer than just trading the underlying market due to their limited downside and reduced market exposure. The best part is the potentially higher and greater returns because of the smaller investment laid down, and the high leverage they offer.
Employ new trading strategies!
Most important is the great flexibility traders and investors have when adding options to their portfolios. They gain the ability to profit from endless new trading strategies that are only possible when including options as part of your trading and investing strategies.
Buying options?
Profit from your chosen view, without limit, while limiting your downside and avoiding the risk of getting stopped out in your chosen time frame.
Selling options?
Here's your traders' opportunity to profit from taking on risk in a way that cannot be duplicated when trading in underlying markets. But we are not just referring to standard options trading, we are talking about AvaOptions!
8 Reasons to Include AvaOptions in Your Affiliate Marketing Strategy
If you're ready to catapult your commissions and make your referrals happy by offering them the advantages of trading with options – and keeping them trading and your profits growing for the long run – your next step is to switch to a brokerage that offers the best in options trading. Here are 8 reasons you should offer AvaOptions from AvaTrade:

Trade FX, gold and silver, oil, indices and options from one account
AvaTrade makes trading easy and convenient, by letting you trade a variety of financial instruments efficiently, from just a single account. With AvaOptions, you are given a unique platform that comes with three alternatives to give you access anywhere – Web trading, Mobile Apps, and Windows. AvaOptions calculates margin based on the net risk of all your positions in each product for maximum efficiency, which means you'll reduce (or bring to zero) your margin requirement if, for example, you buy EUR/USD FX and buy a EUR/USD Put Option. Protecting your trades, reducing one's risk, has never been easier!
Choose from a variety of options strategies
Which options strategies are available and which of those fit your needs? AvaOptions' Web Trader and Mobile App tools let you trade in Calls and Puts, Strangles, Butterflies, Condors, Risk Reversals, and Synthetic Forwards, among other classic strategies. You can also work with Call Spreads, Put Spreads, and Ratio Spreads. Hold on to your seats there is more, as with spread strategies your traders will see bid/ask spread reductions. If you have any questions or need more explanations, check out our integrated Strategy Guide – available in nine languages!
Trade visually from an intuitive chart
With our intuitive charts, you get a clear picture of your trading activities, including the market price trajectory – where the price has been and where it's likely to go within your selected time frame – so you can see how your strategy will work in various scenarios. Choose from historical, and profit/loss charts, bar charts that show net exposure by currency pair and by a single currency, and more – AvaOptions' charts let you do everything from structuring an FX or options trade to setting entry and closing limits, to measuring and managing your risk.
Take total control of your portfolio
Because the app's charts are intuitive, you can perform functions that let you balance risk and reward and create the exposure to match your overall market view. For example, you can add technical indicators; adjust quantity; choose any strike price; select expiration dates from one day to one year and any time frame in between; as well as include entry limit price, take-profit, and stop-loss levels. Define your trading choices by simply executing with your mouse or finger, and you're done. Easy and simple!
Track and manage your risk
To maximize potential earnings, AvaOptions not only includes portfolio simulations and powerful desktop and mobile platforms that can empower your trades, but it also provides a broad selection of risk management tools. For example, you'll be able to detect net risk by product and net risk across products and broken down by currency (such as EUR, GBP and FTSE100), as well as net exposure (delta, vega, theta) and net profit in each product. You'll be able to see all this information in easy-to-understand numbers, graphics, and bar charts. Moreover, with our new AvaOptions Web Trader, you can see all open positions of a specific product on one chart, simulating portfolio performance over time at any underlying price.
Recognize chart patterns with automated tools
AvaOptions offers Autochartist™. This popular chart pattern recognition software lets you stay on top of market trends and signals, assess market performance vs market predictions and, with just a few clicks, execute trades based on this information right on the platform.
Empower trading with a money manager-level platform
AvaOptions' platform – powered by a fully customizable interface that lets you adapt the trading screen to your requirements and an interactive risk management tool that enables you to view risks and conduct what-if analysis – is designed to help money managers and professional traders monitor multiple accounts with one login, execute trades for multiple accounts with one ticket, and allow for complete control.
EU and UK customers, enjoy additional leverage
AvaOptions offers retail traders 200:1 leverage for options on most FX pairs. With leverage for trading underlying FX pairs limited to 30:1, you can replicate the underlying and hugely increase your leverage by using the Synthetic Forward strategy.
Affiliates, Move Beyond the standard "Buy" and "Sell" and Up Your Game with AvaOptions
Offer your referrals a financial instrument that provides:
A unique and powerful combination of visually intuitive and chart-based trading screen, aggressive pricing, efficient margining, and commission-free trading.
The advantage of being able to hedge your positions and manage risk with 14 proven options strategies.
The ability to trade FX, Indices, Gold, Options, and more from one platform with Web, Mobile, and Desktop applications.
Not to mention the benefits of working with AvaTrade – one of the most highly regulated online brokers that offers customers both a rewarding trading experience, superior customer support, and the most innovative trading platforms and apps!
---
//php get_template_part('template-parts/social-buttons'); ?>