Beat the Cost of Living Crisis in 2023
As we enter the summer of 2023, the high cost of living continues to be a major issue for hundreds of millions of people around the world. High-interest rates are pushing up mortgage repayments and other borrowing costs. Inflation is reducing the value of savings and high food and energy prices are adding pressure on consumers.
There's nothing new about this kind of economy. Unusual events like the global COVID-19 pandemic lockdowns and quantitative easing contributed to the current situation. But the fact is that we've always had recessions, bear markets, and financial crises. They come and go periodically, and people with initiative and ambition have always profited – regardless of market conditions.
The cost of living crisis is encouraging enterprising people to look for alternative ways to make extra money and improve their lives. One popular route is online CFD and Forex trading. Almost anybody can sign up with a broker and start to trade a range of CFD stocks, commodities, cryptos, and a host of other major assets. Online trading is popular because it's convenient, easy to access, and (potentially) offers high rewards, at least for skilled traders.
An even better way to achieve financial independence and beat the current cost of living crisis is to become a Forex or CFD affiliate. Instead of trading online, you can earn high commissions by referring new traders to brokers via your affiliate partner program. All you really need to get started as an online affiliate is a website or a few social media profiles (Facebook, Instagram, YouTube TikTok, etc.) and the drive to make money.
This blog post will give you all the basic information needed to start making money as a Forex affiliate and lay a strong foundation for future high earnings. The summer of 2023 is the perfect time to cash in on public demand for online trading and start a new life as a successful broker affiliate partner.
How to Earn Money as a Forex Affiliate
CFD and Forex affiliate partnerships are the most profitable in the affiliate marketing industry! In fact, a skilled CFD and Forex affiliate marketer can make hundreds of thousands of dollars a month on commissions alone when they partner with the right CFD/Forex broker. Some of Our CFD and Forex affiliates are making more than $10K per trader alone!
Are you scratching your head wondering how they do it? The online marketing or digital marketing world is constantly evolving, and Google and YouTube are changing their algorithms all the time.
How does this affect you as a Forex affiliate? It affects everything you do online! As a Forex affiliate, you are driven by two key goals, both of which translate into higher profitability: First, to generate traffic for your website and, second, to increase the conversion of potential leads into trades.
Basically, you as a CFD or/and Forex affiliate need to refer traffic to the CFD or Forex broker you have partnered with in order to make a commission on your referrals. The more QUALITY traffic and QUALITY leads you refer the higher your Forex affiliate earnings will be!
But How? How can you get more quality traffic and quality leads? These are the secret tips that our team put together that will help you with your marketing efforts so that you can achieve higher Forex affiliate earnings!
Secret Tip #1
Understand your target audience Your BUYER PERSONA
It all starts with understanding your target audience or in other words your Buyer Persona. Who are you trying to attract? Who are these buyer personas you want to attract to your affiliate links and affiliate offerings?
The secret to selling to your buyer persona is to understand everything possible about your buyer persona this includes the following:
Their age group
What do they do for a living? Are they part-time traders, full-time investors, or Full-time traders? Are they lawyers and trade on the side?
Where are they hanging out, and what social platforms are they active or engaging with every day?
What websites or online magazines are they reading?
What are their hobbies, hangouts, and forum groups they belong to?
What motivates them? What are their biggest dreams?
Now let's narrow it down a bit more for the forex and financial markets so that we can focus on forex affiliate success and higher earnings!
For these buyer personas of ours ask yourself the following:
What markets are they trading?
Are they short-term or long-term traders, Swing traders, position traders, or maybe Day traders?
What trading platforms are they using?
What trading gurus are they following?
Where are they getting their trading advice from?
Now for the key to boosting your Forex affiliate earnings, READY?
What are their pain points? In other words -What are their biggest challenges, what are they seeking? What information, advice, answers trading strategy insights?
The more information you know about your target audience also known as your buyer personas the better you will be able to point pint their pain points. Now why is this EVERYTHING so important?
Because once you know what their pain points are you can offer them a solution. And well there is no better way than for a lead to turn into a conversion than giving them the solution they want, need, and are seeking so desperately!
So once you know this information what's next?
1. Create Buyer Persona Templates
It's simple really you must do your research to learn everything possible about your buyer personas you are targeting who you are targeting from doing your own diligent research on the internet. Then you are going to prepare what we call Buyer Persona Templates. We have prepared you a FREE Template to fill out (see below).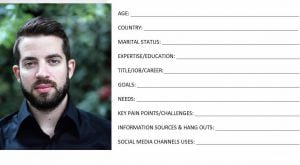 Fill out at least 2 to get started you can always add more once you get the hang of it and want to target other types of audiences. Now that you have your research and buyer person templates filled out remember your goal will be to Offer Value (we will discuss this in Tip # 3)!
Your buyer personas are going to go through a journey called the buyer journey (we discuss this in tip #4). If you manage to get them through this journey successfully well then you will see success and manage to make tremendous profits with your Forex affiliate program.
So, when your buyer personas see that YOU can offer them value you will be building trust and subscribers and attracting lots of QUALITY TRAFFIC. But wait how much traffic will you be attracting exactly? And how can your target audience find you and see the valuable information you will be offering them?
That's where we come to secret Tip #2
Learn SEO – Rise and Get noticed!
SEO stands for Search Engine Optimization, The more you learn how to rank higher on the search engines for certain keywords the more you will increase your Forex affiliate earnings! Many affiliates get overwhelmed with SEO from the start and then give it up altogether and they are really missing out because learning some basic SEO will only help you get the quality traffic and quality leads you need to be a successful Forex affiliate and the sky's the limit as far as earnings you can potentially make with the right CFD or Forex affiliate program! So don't get overwhelmed read a few articles about SEO and watch a few videos, We recommend Neil Patel he really is the SEO guru.
If you don't know enough SEO you are staying behind in this game. SEO is essential to get seen get noticed and appear on the Search Engines. Basically, you want to rank for certain keywords that your buyer persona is seeking. For example, if the pain point that we discussed earlier of your buyer persona falls under a better understanding of how to trade ETFs, well then you would find out what keywords include ETFs that could bring traffic, and then you would write content around these keywords or perhaps have  PPC campaign built around these keywords? So maybe a blog post that has the title "Find out which ETFs are a great buy right now", is written on this subject. Or maybe you want to create a FREE Guide to quickly create a mailing list that you can then target.
Once you take the time out to learn some basic SEO, there are some fantastic tools that will automate and help you track all your SEO efforts and will give you great content ideas that will boost your rankings. Tools such as SEMrush, Ahrefs, and MOZ are just a few of the best ones that can really make all the difference. But you can start with some free tools till you are more knowledgeable such as Ubersuggest by Neil Patel.
Keywords-the low hanging fruit
Try to target what they call the low-hanging fruit first! This means keywords that are easy to rank for quickly because their competition is low, but they have decent volume. This will help you to rake in some traffic rather quickly from the start, and then you can target some keywords that are more competitive. Now that you have the keywords you want to target what are you going to do with them?
This brings us to our next secret tip for success Secret tip #3
Offer Value!
How can you offer value?
Once you have your buyer personas details filled out, and most importantly pin point out their pain points it's time now to convert these buyer personas that come to your website or to your affiliate offering/links this is done by attracting them by the value you are adding!
What is VALUE?
Value is based on your target audience/buyer personas' pain points. That means based on what they are seeking and what is challenging them you are going to help them and offer them a solution to their problem and pain points/challenges.  This means offering them content that provides the value they are so badly seeking. Did you like our secret tips? Well, stay tuned as our next blog post Secret Tips For Achieving Higher Forex Affiliate Earnings Part 2 will reveal some more secret tips for you on how to achieve higher Forex affiliate earnings!
Meanwhile, check out our partner program, and let our team lead you to success!!!
---
//php get_template_part('template-parts/social-buttons'); ?>